You can crop pictures in PowerPoint, and of course you can animate them. But as you may observe frequently in life, synergy yields results that exceed the mere sum of two or more initiatives. And that's true in a way for the technique we will explore on this page, we call this Slice and Animate. The two techniques being used for this synergy are cropping pictures and adding animation.
Follow these steps to slice and animate pictures in PowerPoint:
Open a new or existing presentation, and insert a picture on a blank slide. Figure 1, below shows a selected picture.

Figure 1:

Picture selected

Now, make the Guides visible, as shown in Figure 2, below. Do note that one horizontal and vertical guide spans to intersect exactly at the center of the slide, as can be seen in Figure 2.

Figure 2:

Guides made visible

Duplicate the selected image three times so that it makes four copies of the photo, as shown in Figure 3, below.

Figure 3:

Make copies of the picture

Duplicate Slides with Keyboard Shortcuts

Use the

Ctrl

+

D

keyboard shortcut to duplicate selected objects such as a picture within PowerPoint versions on Windows. If you are using a Mac version of PowerPoint, use

Command

+

D

instead.

PowerPoint Keyboard Shortcuts

Do you want more keyboard shortcuts?

Explore our PowerPoint Keyboard Shortcuts and Sequences Ebook that is updated for all PowerPoint versions.

Select all four pictures (original plus three duplicated copies), and align them in a way so that each of them is placed over the other.
Now, select the top most picture and access the Picture Tools Format contextual tab on the Ribbon. Click the Crop button, as shown highlighted in

red

within Figure 4, below.

Figure 4:

Crop button

When you click the Crop button, dark crop handles appear on the edge of the picture, as shown in Figure 5, below.

Figure 5:

Result of applying Crop option on a picture

Now, select the bottom-right corner handle, as shown highlighted in

red

within Figure 5, above. Press and hold the

Shift

key while you drag the handle inward to the diagonally opposite side of the handle. Drag up till where the guides intersect at the center of the slide, as shown in Figure 6, below.

Figure 6:

Picture being cropped

In Figure 7, below you can see that the picture is cropped to a quarter of its original size. Click anywhere on the slide to get out of crop mode.

Figure 7:

Picture cropped

Similarly, select corner handles of other pictures, and crop them to opposite directions. Ensure that you press and hold the

Shift

key. Figure 8, below shows the final result of the pictures. Note that all four pictures are individually cropped images on the slide giving an illusion of being one picture.

Figure 8:

All pictures cropped

Now, you can apply animation to these individual cropped pictures. The sample presentations below provide an idea of the end result.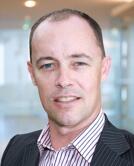 The VBA Approach with Jamie Garroch
Want to slide a picture into quarters without having to do it all manually?
It's easy if you use some VBA code provided by Jamie Garroch. Find it on his Quartering Pictures in PowerPoint with a macro page. Don't know how to use VBA code? Explore our VBA Scripts in PowerPoint page.
Click below to view on YouTube
This is the original page. An AMP (Accelerated Mobile Page) version of this page is also available for those on mobile platforms, at Slice and Animate Pictures in PowerPoint.