This book extract is Fixing PowerPoint Annoyances by Echo Swinford is an Indezine exclusive with permission from O'Reilly Media, Inc.
Echo Swinford is a Microsoft MVP and is a well known PowerPoint authority. When she's not working on new media, she is answering almost all the questions on the PowerPoint newsgroup. If she can't find you an answer to something PowerPoint related, then that answer probably doesn't exist.
The excerpts chosen to be published on Indezine discuss Excel related issues in PowerPoint.
I wish to thank Betsy Waliszewski, Regina Wilkinson and Craig Palmer for facilitating the permission to extract.
ISBN: 0-596-10004-3
---
Excel Data Cut Off
Colored Text Turns Black
Get Rid of Gridlines
Extract Data from an Embedded Excel Chart
---
Excel Data Cut Off
The Annoyance: I pasted cells from an Excel spreadsheet into my presentation, but a bunch of rows got cut off. How can I get the whole thing onto my slide?
The Fix: The easiest way to fix this is to upgrade to PowerPoint 2002 or 2003, which fix the limitation PowerPoint and Excel seem to have when exchanging information on the clipboard.
There is a limit to the size of the PowerPoint 97 and 2000 clipboard—about 33x33 cm. Anything outside that area may be cut off. If you can, reformat your data to make it fit within this 33×33 cm area (for example, decrease the font size or the width of your columns). On a default spreadsheet, this would be about 72 rows long by 17 columns wide.
Depending on your operating system, you may also be able to copy more data if you change your display setting from, say, 800×600 to 1024×768 or 1280×1024. Right-click your desktop, choose Properties, click the Settings tab, and move the slider in the Screen resolution area (see Figure 4-11).
The only other solution is to paste pieces of your spreadsheet onto your slide and then realign the data once you get everything in PowerPoint.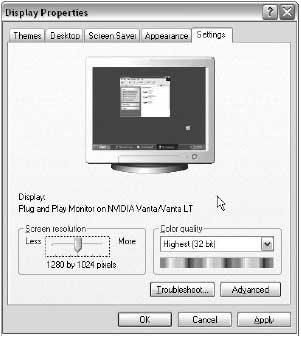 Figure 4-11. Changing your display resolution may let you paste more data from Excel onto your slide.
---
Colored Text Turns Black
The Annoyance: I imported my spreadsheet okay, but the colored text turned black. It's really bizarre.
The Fix: Make sure your default printer is a color printer. Yeah, it's weird, but that really is the fix!
To set your default printer, click Start | Control Panel | Printers and Faxes. Right-click the color printer in the list and choose "Set as Default Printer" (see Figure 4-12).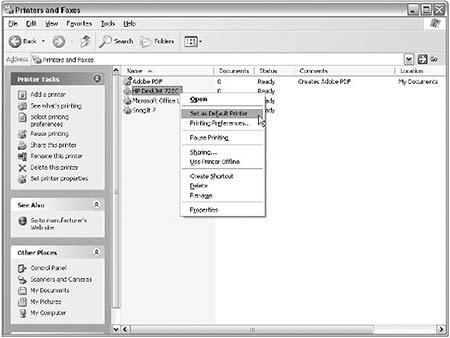 Figure 4-12. Make your default printer a color printer to force your Excel text to remain colored when you paste it into PowerPoint.
You don't actually need a color printer connected to your computer. You can still install the printer drivers for a color printer and set it as the default while you work on the presentation. To install color printer drivers, click Start | Control Panel | Printers and Faxes. In the Printers and Faxes dialog box, select File | Add Printer. Follow the prompts to install a local printer to LPT1, and choose something like HP DeskJet 722C from the list.
---
Get Rid of Gridlines
The Annoyance: I pasted in a bunch of Excel data, but I can't get the gridlines to go away. Help!
The Fix: You have to remove the gridlines in Excel before you paste the data into PowerPoint. Open the file in Excel, choose Tools | Options, click the View tab, and uncheck the Gridlines box in the Window options area (see Figure 4-13).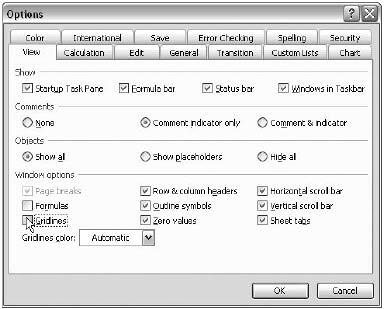 Figure 4-13. To make gridlines disappear, uncheck the Gridlines box before you paste your data into PowerPoint.
---
Extract Data from an Embedded Excel Chart
The Annoyance: Some doofus embedded an Excel chart into the presentation, but we really only want it linked so the market research people can update the data without messing up our PowerPoint file. Is there a way to get this information out of PowerPoint, or do we have to start over and create a new workbook in Excel for the research folks?
The Fix: Just right-click the chart and choose Chart Object | Open. Then select File | Save Copy As. This saves a copy of the chart and data in an Excel workbook you can let your market research people work on. Delete the original chart in the PowerPoint file and create a link to the chart in the new Excel workbook: copy the chart in Excel, select Edit | Paste Special in PowerPoint, and choose the "Paste link" option to link the chart to the presentation. As long as you don't break the link to the Excel file by moving it to a different folder, the data will update each time you open the PowerPoint file. To change this behavior, select Edit | Links and choose the desired options.
This is the original page. An AMP (Accelerated Mobile Page) version of this page is also available for those on mobile platforms, at Fixing PowerPoint Annoyances - 1 of 2.