Introduction
AKVIS ArtSuite 6.6 is an updated version of a Photoshop compatible plug-in that comprises a collection of effects and frames (edge effects) for pictures (see our review of a previous version of AKVIS ArtSuite). These effects and the frames can be customized and can be provided a personalized touch.
AKVIS ArtSuite 6.6 includes a new theme frame pack, the Christmas Pack. These frames can only be used within the AKVIS ArtSuite standalone program, and not the plug-in. The standalone program is included as part of the plug-in. In addition, AKVIS provides an additional free pack with 30 frames, and also Wedding and Travel packs that include 50 frames each.
ArtSuite 6.6 is from AKVIS, a company based in Russia that specializes in graphics programs. Apart from ArtSuite, AKVIS also creates other Photoshop compatible plug-ins like Retoucher, Chameleon, MultiBrush, Sketch, Enhancer, Decorator, Coloriage, NatureArt, etc.
You can download a free 10-day trial version of ArtSuite 6.6 from the AKVIS site
My contact at AKVIS for this review was Kat Kharina. Thank you, Kat.
---
How To Use
Follow these steps to use AKVIS ArtSuite:
Open an image you want to use inside Adobe Photoshop or a similar program.
Choose the Filter | AKVIS | ArtSuite option, as shown in Figure 1, below.

Figure 1: ArtSuite
Doing so opens the ArtSuite interface, that you can see in Figure 2, below.

Figure 2: AKVIS ArtSuite interface
The interface is divided into two parts: the left side is the preview window where you can see the picture and the changes made; and the right side of the interface has the list of frames and effects with their settings.
Select any frame from the list provided as shown in Figure 3, below. Each frame has properties which can be customized.

Figure 3: ArtSuite frames list
Figure 4 shows the list of Effects.

Figure 4: ArtSuite effects list
Choose any frame or effect. Do remember that you can even create your own effects and frames.
Once done, apply the changes within the plug-in by pressing the Run button.
This applies the effect and creates a preview of the changed image in the After tab, as shown in Figure 5, below.

Figure 5: Preview the changes
Once you're done, apply the result to the image by pressing the Apply button to return to the image editor.
Although instructions above showed how you can use AKVIS ArtSuite 6.6 as a Photoshop plug-in, the product also works in the same way in standalone mode. However, one important difference is that the free 30 hand-painted frames only work in the standalone program. Figure 6, below shows some of the samples created using the hand-painted frames.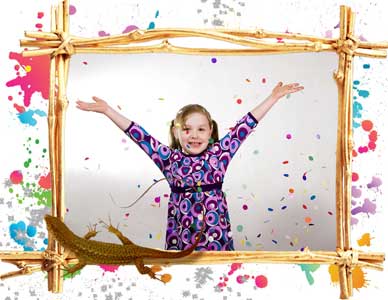 Figure 6: Hand painted frame samples
---
Specifications
| | |
| --- | --- |
| Photoshop Versions: | Photoshop 6 and higher |
| Platforms: | Windows, Mac |
| Site: | AKVIS |
| Price: | USD $49 and above |
| Trial Version: | Available for 10 days |
This is the original page. An AMP (Accelerated Mobile Page) version of this page is also available for those on mobile platforms, at AKVIS ArtSuite 6.6.