July 6, 2021
PowerPoint and Presenting News
Enable or Disable PowerPoint Animations in Slide Show View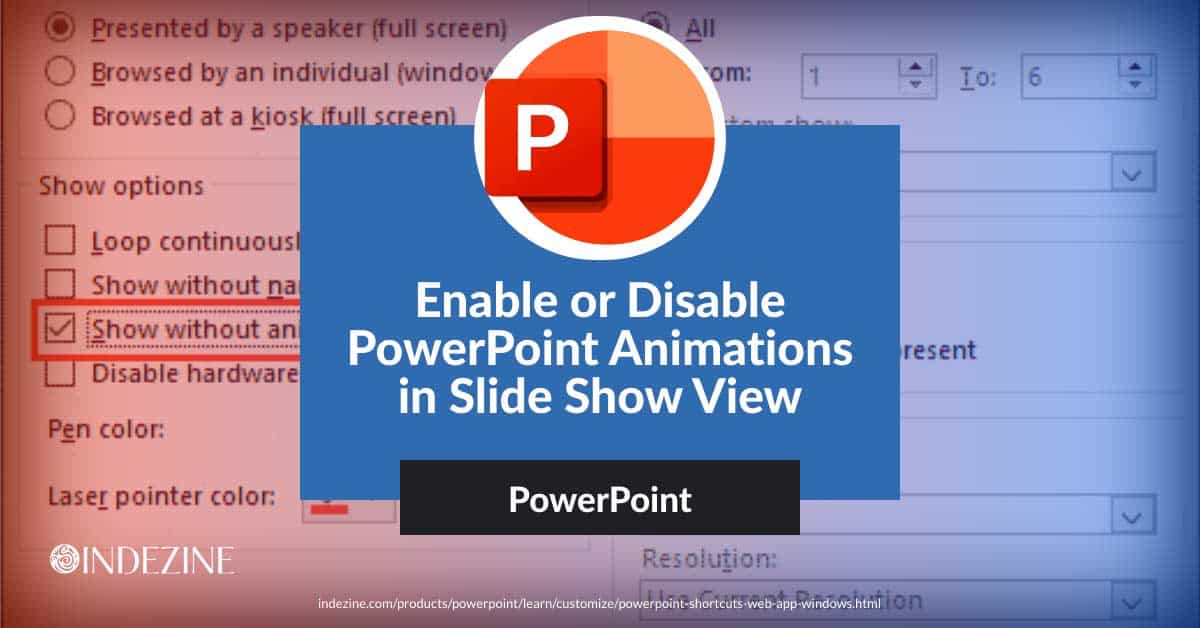 One of our subscribers just reached out to say, "The slides in my PowerPoint are not showing the animations I have set. I double-checked and all animations have been set properly. So why don't the animations play?" Call it a coincidence, but we recently also heard another question, "I have detailed animations set up on my PowerPoint slides, but can I disable the animations without deleting them altogether?" The resolution to both these problems may be the same.
Learn how you can enable or disable animations in all versions of PowerPoint
Organic Shapes with Brush Edges
You get 8 shape types plus lines as part of this Organic Shapes collection. Each of these 8 shape types have 10 variants. So you end up with 80 hand-drawn shape options! Again each of these 80 shapes have 12 brush stroke styles! Plus you get the lines and arrows in 12 brush stroke styles too. Combine all variations to end up with more than 3000 possibilities.
Buy and Download for $99+ (83 MB)
iSpring Suite Max: The Indezine Review
In this post, we are reviewing iSpring Suite Max, which is the current release of iSpring Solutions' eLearning suite of applications. We have already reviewed iSpring Suite 9.7 in the past. This time as well, my contact at iSpring Solutions Inc. was Maria Varankina. Thank you for coordinating, Maria. We also featured Slava Uskov of iSpring in an exclusive interview about new features in iSpring Suite Max. You can launch iSpring Max in one of two ways.
Read the review here
Quotes
Look Around You: by Nancy Duarte

"Look around you. Your clothes, language, furniture, house, city, and nation all began as a vision in someone else's mind. Your food, drink, vehicles, books, schools, entertainment, tools, and appliances all came from someone's dissatisfaction with the world as they found it. Humans love to create. And creating starts with an idea that can change the world."
The Evolution of Office Themes
Evolution is an interesting concept because it's the change that's natural, logical, and involved. And although Themes (Office Themes) did not exist in their present form before Office 2007 for Windows, they did evolve from the humble PowerPoint template, which continues to co-exist and thrive. As we explore deeper into how Themes work, you'll find that PowerPoint uses these Themes in amazing ways, and shares them with Word and Excel. That's the reason they are called Office Themes rather than PowerPoint Themes.
Learn about Office Themes, and how they work, specifically in PowerPoint
Where are Office Themes and Templates Located?
Haven't you seen the Themes that PowerPoint shows you when you want to create a new presentation? These Themes show up in the Presentation Gallery and also within the Themes drop down galleries within PowerPoint. Where are those Themes located? Many times, you want to know why this information is not as easily accessible as it should have been. Luckily, we will try and solve this problem.
Explore default locations of built-in Office Themes on your computer
Insert Video Clips in PowerPoint 2016 for Mac
Do you want to insert video clips within your PowerPoint slides? Videos can be useful to express your message, and PowerPoint lets you easily insert video clips. There are some prerequisites though that you must have in place before you use video clips in PowerPoint and also, you must be sure that you are using video clips for the right reasons.
Learn how you can insert a video clip on a slide in PowerPoint 2016 for Mac
Indezine PowerPoint Templates
Medicine and Medical PowerPoint Templates
Legal and Law PowerPoint Templates
FreePPT PowerPoint Templates
Christian PowerPoint Templates
End Note
© Indezine. Please do not reply to this message.
Join this list
Received this email from a friend? If you would like to receive your own copy, join our mailing list. Go here.
Previous issues
Do you want to read older issues of this newsletter? Go here.
Privacy Policy
We never share your info with anyone. Read our Privacy Policy.
Mail Provider
This mailing list is powered by Aweber.
Change Subscription
If for any reason, you no longer want to receive this newsletter with valuable tips, resources, and information about PowerPoint and presenting stuff, you can unsubscribe by clicking the link at the end of this email. No hard feelings!