June 30, 2020
PowerPoint and Presenting News
Should You Jump Slides in PowerPoint?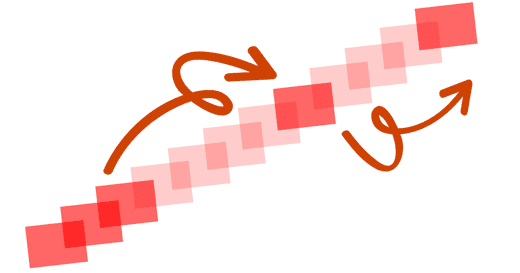 Many presenters want to be in the same situation as Tom! He was happy presenting, and his audience seemed engrossed with his talk. Tom shared a story about ups and downs. He explained this contrast in a nail-biting environment, where the audience waited to know about what would happen next. Yes, the story had served as an awesome introduction, and Tom had everyone's attention. Could anything go wrong? Maybe, or maybe not. Let's see what happened next.
Learn how you can cope with the problem of jumping through slides
Scholarship Opportunity for the Presentation Summit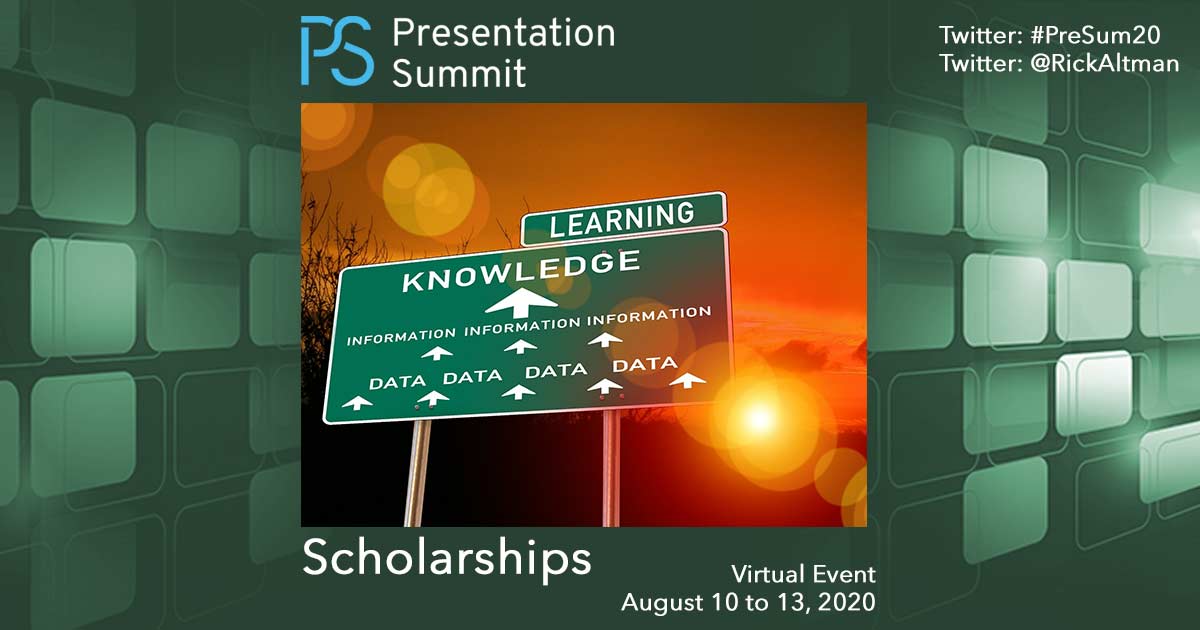 Since its inception, I have attended all but one season of the Presentation Summit. It's the year's premier event for the presentation industry, and a place where you learn skills, meet like-minded folks and interact with vendors of presentation products. This is the first year that this conference has gone virtual--and that's an opportunity for many who could not travel to the amazing venues where the conference has been held. This year, of course, the venue has changed to wherever you are from August 10-13. The host, Rick Altman, is offering scholarships to presentation professionals who stand to gain and who stand to contribute to the community.
If you plan to attend, the cost of the virtual conference is just $395. If that's something you cannot pay now for any reason, you can apply for a scholarship
Concept Slides: Arrow Circles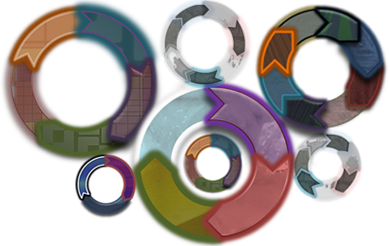 Circles created with continuously curved arrows, also known as arrow circles can be used to show processes, continuous sequences, and cycle diagrams. We bring you such arrow circles with 3, 4, 5, 6, 7, and 8 arrow segments each. Plus, you get variations that let you choose from thinner or thicker segments. You get these segments in a regular geometric style. Additionally, we have also included an organic style so that your segments appear hand-drawn! Don't the segments shown above look hand-drawn? Yes, you get six such arrow circles as part of our Arrow Circles collection. There are four variants of each Arrow Circle, so, you end up with 24 new, unique Arrow Circles that you can use straight away in your slides!
Download and use these Arrow Circles in your slides.
Quotes
Business Thrives on Interaction: by Ally Yates

"Business thrives on interaction, whether we're at meetings, making presentations, coaching, or simply chatting with colleagues. Our work is increasingly team-based, a point underlined by a recent Harvard study which found collaborative activities making up more than 50% of work in business environments. There's good reason for this, since teams and groups achieve better results than the lone genius (see James Surowiecki: The Wisdom of Crowds). Outside the world of work, team-focused learning is increasingly taking hold as the organizational model for universities, requiring students to better understand their own behaviors as well as those of their peers."
Should You Create Widescreen Slides in PowerPoint?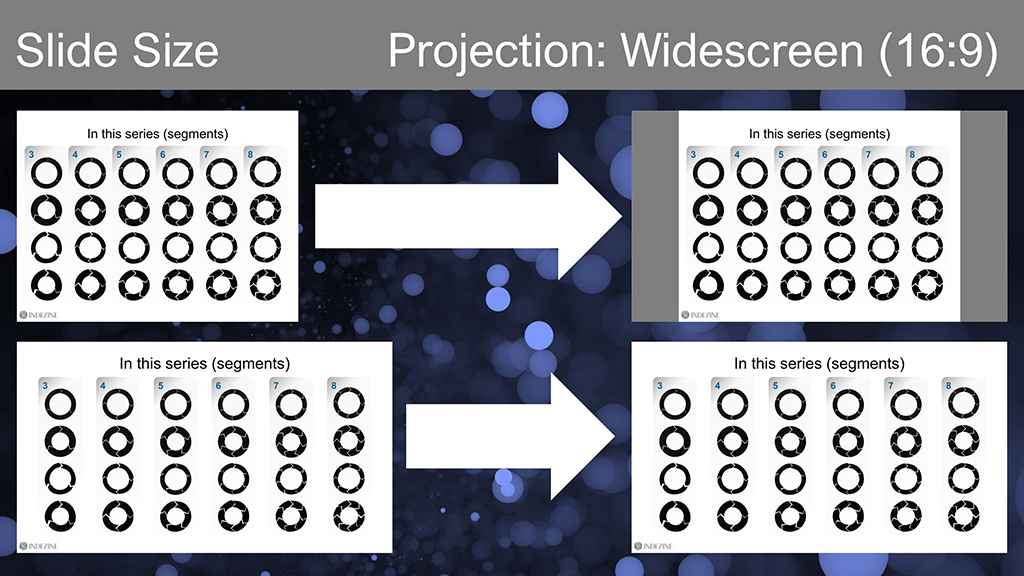 On a webinar that I was watching on a phone, the presenter shared a slide with numbers. There were many numbers, and they were small. The same goof-up had happened at a destination conference a few months ago! The text size on the slide was teeny-weeny, and you could not see much, even if you squinted your eyes. This time, the problem was not that the presenter had used 8 point text on the slide; this text was 20 points, and that did not make it too small. Even then, in a large room, you still could not read the text!
Make sure that you know whether you must create widescreen or standard slides for your next presentation
Shining Online During Your Next Live Webinar
Standout speaking online brings its own challenges that even experienced speakers are grappling with. How do you set up your tech for great eye contact? How do you grab and keep your audience's attention, especially if you can't see them? How should you structure what you want to say to maintain interest and land your message? And what about words and gestures? No one denies that giving a talk is daunting at the best of times, but the challenges intensify when it comes to acing your online presentations with Confidence, Connection, and a message that drives Change.
Learn more with Lyn Roseaman of Toastmasters International
Presentation Summit 2020: Conversation with Rick Altman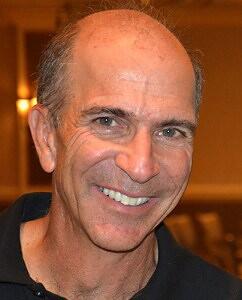 Rick Altman has been hired by hundreds of companies, listened to by tens of thousands of professionals, and read by millions of people, all of whom seek better results with their presentation content and delivery. He covers the whole of the industry, from message crafting, through presentation design, slide creation, software technique, and delivery. He is the host of the Presentation Summit, now in its 18th season as the most prominent learning event for the presentation community. In this conversation, Rick talks about his sessions at the upcoming Presentation Summit 2020, being held virtually this year from August 10 to 13, 2020.
Read the conversation here
Indezine PowerPoint Templates
Medicine and Medical PowerPoint Templates
Legal and Law PowerPoint Templates
FreePPT PowerPoint Templates
Christian PowerPoint Templates
End Note
© Indezine. Please do not reply to this message.



View this mailer issue as a web page

.
Join this list
Received this email from a friend? If you would like to receive your own copy, join our mailing list. Go here.
Previous issues
Do you want to read older issues of this newsletter? Go here.
Privacy Policy
We never share your info with anyone. Read our Privacy Policy.
Mail Provider
This mailing list is powered by Aweber.
Change Subscription
If for any reason, you no longer want to receive this newsletter with valuable tips, resources, and information about PowerPoint and presenting stuff, you can unsubscribe by clicking the link at the end of this email. No hard feelings!