PowerPoint and Presenting News
Star Wars Style Credits Animation


The Star Wars Style Credits Animation presentation includes a sample slide in which the credits animate in the Star Wars style. You can download this presentation and change the text in the animated text boxes as required.

Download and use these Star Wars like slides.


Handmade Slides: Pushpins for PowerPoint


These "pushpin" graphics are already placed in PowerPoint slides. Just copy them and paste within your slides to create a look that makes a picture, shape, or anything else appear as if it has been pushed onto a surface, board, or wall with a pin!




All these pushpins can be rotated and resized, as required. Since they are essentially pictures, all types of edits that you can do with pictures work with them too! To make them stand out, try to use PowerPoint's built-in shadow effects.

Download these Pushpins for just $19.99
Use Macros and Scripts in PowerPoint


This article is not about creating your own macros or scripts to automate PowerPoint. However, if you just want to run any macros or scripts that a friend or colleague shares, then you are on the right page.

Learn about using readymade VBA snippets in PowerPoint.


Creating Slide Backgrounds in Photoshop


If PowerPoint represents something more than anything else, it is the slide – and while you can use a white slide bereft of any graphic treatment, more often than not you will want to use something else. That's because the background elements of a slide are a representation of the brand of your company, or even an expression of your personality.

Learn how to create slide backgrounds for PowerPoint in Photoshop.


Presenting Quotes
When I Started Storytelling: by Margot Leitman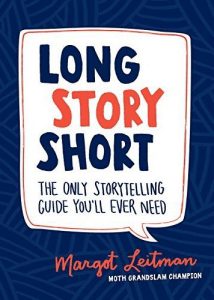 Margot's book is a must-read for anyone who needs to use storytelling, and that includes speakers, presenters, and communicators. Margot uses examples from her own life to illustrate her techniques. She even explains her mistakes and how they helped her improve. Shen then helps others overcome those same mistakes. This is one of the best books on storytelling I have found, and it almost reads like a storybook too!
Learn PowerPoint 2016 for Windows
Slide Show View


Have you created all your slides, and now you want to show it in front of an audience? Or you just want to use this slide deck in a webinar, or even see them yourself to understand how they look in full-screen view? In that case, the view that plays your presentation in full-screen mode is Slide Show view.


Learn PowerPoint 2016 for Mac
Adding Commands to Custom Groups


If you want to really benefit from customizing your Ribbon in PowerPoint 2016 for Mac, then certainly add some commands that are not placed by default within any of the Ribbon tabs. You'll notice that all commands are placed within Groups. Whatever your intent may be, you cannot place any commands within the existing Groups that are built within PowerPoint. You first need to add a custom Group within any of the tabs available in the Ribbon. Thereafter, you need to populate them with commands.


---
Quick Access Toolbar


Soon after power users install a new application, they want to customize their menus and toolbars so that their most often used commands are accessible with fewer clicks, or even custom keyboard shortcuts. And even if you are not a power user, you should explore a very useful option that we explain in this tutorial, this will make your tasks easier, and quicker.