Indezine News
by Geetesh Bajaj, June 22nd 2010
This newsletter provides more info on better PowerPoint usage, and presentation design. You can also opt to get our RSS feed, where you can get updates through Feedburner.
---
PowerPoint Insecurities
I read an article in a large, mainstream publication about how PowerPoint may be the enemy, and the first thing that crossed my mind was how most people don't like to discuss their insecurities. As human beings, we like to believe we are perfect and always look out for excuses that may cover our mistakes. That makes me think about my own insecurities, and how insecure I can feel about a piece of paper? Read more about this analogy...
---
Self-Promotion for Introverts: The Nancy Ancowitz Interview
Nancy Ancowitz is the author of Self-Promotion for Introverts®. which was picked as one of the best books of 2009 by Publishers Weekly. She is a business communication coach specializing in career advancement and presentation skills. Her clients range from CEOs to emerging leaders in the business and creative worlds. In this interview, Nancy talks about her book, about being an introvert, and about how introverts can become better presenters. Read the interview here...
---
Learn PowerPoint: What is Office Mobile and its PowerPoint version?
Microsoft has had some sort of Office applications built in within its Windows based platform for the phone since its inception. The earliest phone operating systems from Microsoft have had Outlook integration built in seamlessly -- but other apps like mobile versions of Word and Excel have also been available since a long time. The mobile version of PowerPoint was included for the first time as part of the Windows Mobile 5.0 operating system released in May 2005 -- that version was primarily a PowerPoint viewer with no editing capabilities. Learn more about the history of PowerPoint Mobile...
---
Learn PowerPoint 2007: Charting
Picture Fills for Chart Data Series: Did you happen to see a chart that spoke of fruit exports and each column of the chart was filled with pictures of a particular fruit type rather than the conventional solid color fills or geometric patterns? For instance, if you wanted to show how the export of grapes has increased over the years, your column chart would have all columns filled with pictures of grapes stacked one over the other? The good thing is that PowerPoint 2007 allows you to do just that within your charts -- as long as you know which options you need to change -- and that's explained in this tutorial! Learn more here...
Change Major Unit of Y Axis in Charts: The significance of any chart lies in its ability to visually represent complex data as a trend that an audience can easily grasp. So if you create a complex chart with too much detail, you might be ironically creating confusion out of simplicity -- even if you are not aware that you are doing this! One of the easiest ways in which you can make your chart look simpler and less intimidating is by using fewer major units in the Y axis -- and if that sounds like something that's difficult for you to understand, then stop worrying and start following this easy tutorial.Learn more here...
Changing Fonts and Other Text Options of Charts: Although charts are a visual medium, they still contain plenty of text in the form of data labels, titles, legend, axis labels, etc. And while PowerPoint 2007 does make it simpler to access text formatting options than in previous PowerPoint versions, there's still some learning involved. That sort of learning is exactly what this tutorial aims to provide. Learn more here...
---
NXPowerLite for File Servers: Conversation with Tommy Powell
Tommy Powell is from Neuxpower, a software solutions companybased in the UK. Neuxpower custom-builds both stand-alone applications and add-ins that enhance existing software such as Microsoft Office. Their commercially-available file optimizer, NXPowerLite , radically reduces the size of PowerPoint, Word, Excel and JPEG files. In this conversation, Tommy talks about the new NXPowerLite versions for file servers. Read the conversation here...
---
Speech-Over Professional: Conversation with Joel Harband
Joel Harband heads Tuval Software Industries, based in Israel. Their best known product is Speech-Over Studio, a PowerPoint add-in that enables PowerPoint slides to incorporate narrations using automated voices. In this conversation, Joel discusses improvements in the new Speech-Over Professional product. Read the conversation here...
---
authorSTREAM is iPad Compatible: Conversation with Harman Singh
Harman Singh is the Founder and CEO of authorGEN Technologies, which owns two Internet platforms - authorSTREAM and WiZiQ. authorSTREAM.com is a PowerPoint sharing platform striving to make your presentations sharable on the Web - whether they are viewed from desktops, mobile phones or tablets like iPad. WiZiQ is an online education platform where you can teach and learn online, any subject you can think of. In this conversation, Harman discusses the iPad compatibility on authorSTREAM. Read the conversation here...
---
Fun with PowerPoint: Conversation with Simon Newlyn
Simon Newlyn is a PowerPoint artisan. Based in London, he works for advertising, design and public relations agencies as well as for direct clients through PRojects. His PowerPoint experience therefore brings him into contact with a wide range of styles and presentation needs and for fun... Simon has animated the London tube map! In this conversation, Simon talks about having fun using PowerPoint. Read the conversation here...
---
AnyBizSoft PDF to PowerPoint Converter
Last month we teamed up with AnyBizSoft to give away 30 copies of their PDF to PowerPoint Converter -- and for those of you who did not win the giveaway copies, here's a great option:
AnyBizSoft has agreed to provide 40% off the prices of their PDF conversion solutions. Products include AnyBizSoft 5-in-1 PDF Converter for Windows and 6-in-1 PDF Converter for Mac, PDF to EPUB Converter and PDF to PowerPoint Converter.
---
Templates on Ppted

Americana PowerPoint Templates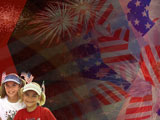 July 4th, Independence Day PowerPoint Templates

Summer PowerPoint Templates
---
PowerPoint Templates on Indezine

Canada PowerPoint Templates

July 4th, Independence Day PowerPoint Templates

Summer PowerPoint Templates
---