These heart shapes are very subtle. In fact, you can easily get away with most audiences not really finding these hearts out of place even in a business presentation! And remember that even though you see hearts, they are placed within a circle. You get 4 shape types as part of this collection. There are 3 variants of each heart circle, so you end up with 12 new, unique shapes that you can use straightaway in your slides!
Buy and Download for $9.99 (10.4 mb)
You can use this circle-of-hearts graphic in any slide that needs to show preferences, choices, and likes of your prospective clients—or for a continuous process. These shapes are all individually selectable, and they break the monotony of text heavy slides, helping you explain concepts clearly to your audiences. What's more, these shapes are also so much fun to use!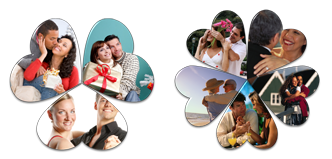 As you can see in the above graphic, the Heart Circles look a class apart than the perfect shapes everyone else uses.
Buy and Download for $9.99 (10.4 mb)
[an error occurred while processing this directive]
Want to see the actual shapes in more detail? View some samples below. Remember, you get all these shapes when you buy and download this collection for just $9.99 (10.4 mb)!
This article was first written on January 18, 2013 and was substantially rewritten and updated on July 8, 2020.
This is the original page. An AMP (Accelerated Mobile Page) version of this page is also available for those on mobile platforms, at Concept Slides: Heart Circles.