PowerPoint and Presenting News
Convert Text Boxes to Placeholders in PowerPoint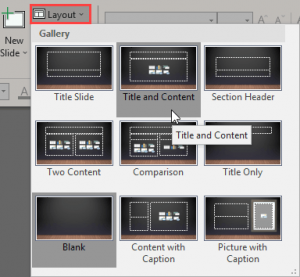 "Is it possible to change a text box into a Title in PowerPoint? I've got tons of slides that use text boxes instead of Title and Content placeholders, and I have no clue about how I can get started!" Yes, this is a genuine call for help we received from one of our readers, and we know that there are tons of users who face this problem. In fact, even PowerPoint design houses have to convert text boxes to placeholders all the time in slides they receive from their clients.

Read more here.


Jigsaw Graphics for PowerPoint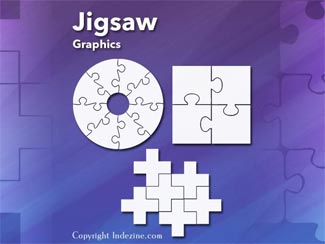 Jigsaws are puzzles that can be solved - but then jigsaws have numbers too! Each jigsaw puzzle has a number of pieces that have to be fitted together, in the same way that many aspects of lives and businesses need to fit in with each other.





Jigsaws can add a whole new level of interest to a PowerPoint slide. Here are 10 jigsaw graphics containing different shapes.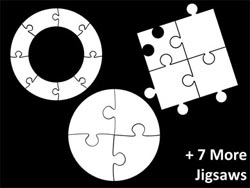 These jigsaws can be used on their own, or also combined with other graphics such as a human head to create a larger concept!

Download and use these Jigsaw Graphics in your slides for just $4.99+
Nine of the Best Props to Add Impact to Your Presentation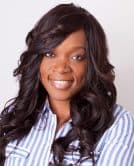 When you use a prop in a presentation, the primary objective is always to add value, clarity or emphasis to a point or an idea in a speech. If used correctly a prop provides the bridge between the abstract and the real world. For example, in his TEDx talk on 'The Art of Saying No,' Kenny Nguyen does this very effectively. Here are nine of the best, unusual and most effective props you can use to enhance your next speech or presentation.

Read this post by Vinette Hoffman-Jackson.


Single and Double-Byte Fonts in PowerPoint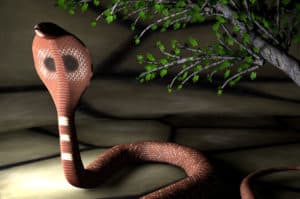 An Indezine reader, whom I met in person described the PowerPoint double-byte font scare as a poisonous king cobra snake! Although this sounds like an exaggeration, this thought has lingered with me for many years. Let's take this dramatic approach further. Sooner or later, you will see PowerPoint look at you like a cobra that's showing its fangs, and is ready to bite. You want to make sure you are not bitten, and wouldn't it be nice if the cobra quietly goes back to its hole and rests there in peace and leaves you alone?

Read more here.


Presenting Quotes
People Need To Be Aroused: by Dr. Marcia Reynolds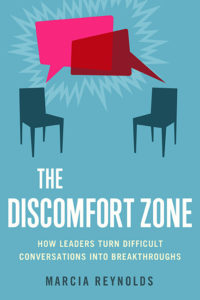 Marcia's book is not only awesome but it is also different than many other similar books. Why? That's because Marcia is very generous sharing her wisdom. More importantly, the book reveals that she cares about how you would go about making the changes explained. She clearly looks at what's going to happen next as a result when you make a certain change!
Learn PowerPoint
Put Your Image in a Star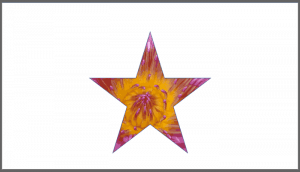 Many times, you may want to add an image within a star shaped container, or any other container shape, such as a diamond, a teardrop, or even a triangle. This is quite easy to achieve, and involves two basic PowerPoint techniques. The first technique is to add a shape, and the second is to fill the shape with an image. Here's how you do it in almost any version of PowerPoint, since PowerPoint 2007 until the recent versions.


---
Add an Em Dash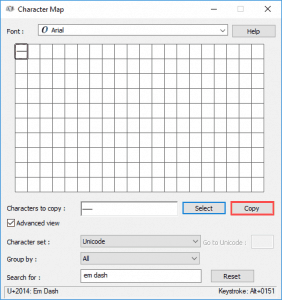 You may want to quickly add an em dash within your text container—be it a placeholder, text box, shape, or even a table. It's very easy to add an em dash, and there is more than one way to achieve this task, although there may be some differences, and all ways may not work in the version of PowerPoint you are using. But certainly, using one of these options, you will be able to add an em dash in PowerPoint.


Learn PowerPoint 2016 for Windows
Text Alignment in PowerPoint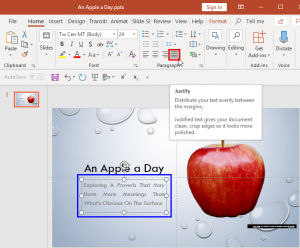 Text is an important element in your PowerPoint slides, and most of the time, text alignment is taken care by the defaults set in your presentation template. You type or paste some text in a placeholder, and the text may align left, right, or even center, based upon the choices made in the template or Theme of the presentation. However, there are times when you want to make alignment choices, not just for text in placeholders, but also for text in text boxes, shapes, charts, tables, and anywhere else.


Learn PowerPoint 2016 for Mac
Merge Shapes with Pictures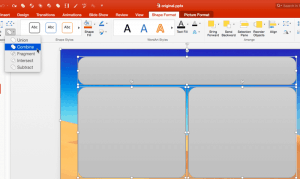 PowerPoint takes the Merge Shapes command to a whole new level. Many of you know that you can merge shapes with other shapes and text, but did you know that you can also merge shapes with pictures? At first, you may wonder what's so awesome about merging shapes with pictures? But play a bit and you'll realize that this option opens up huge possibilities. We will start simple in this tutorial and explore how you can create cookie cutter shapes with this option.


---
Rotate Shapes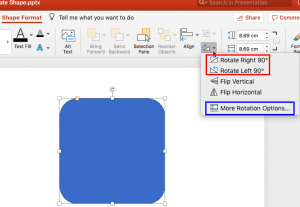 When you insert any shape into your PowerPoint slide, more often than not you will want to make some changes to the default shape that you end up with. Mainly, you may want to resize and rotate the shape. This is something we do a lot in our everyday life, like rearranging our work desks, or even changing the position of our favorite chair so that we feel more comfortable. Similarly, all objects on your slide need to be arranged in a way that feels appropriate, rotation is one way of making this change happen. In PowerPoint 2016 for Mac, rotation can be applied in more than one way.