September 1, 2020
PowerPoint and Presenting News
The Art of Skillful and Sincere Speaking – on Video or in Person
To deliver a successful speech, whether that's via Zoom or in person, you need connection, change, and confidence. Once you have these you are well on the way to being a skillful and sincere public speaker. So, what does this mean in terms of how we design and deliver speeches that are both skillful and sincere?
Learn more from Lyn Roseaman of Toastmasters
Lifetime Access to Pslides PowerPoint Templates
Three years ago, in conjunction with our friends at Pslides, we ran an offer that resulted in over 1,200 of you becoming Pslides subscribers and having unlimited access to their high-quality PowerPoint templates. James at Pslides.com has agreed to provide another fantastic, lifetime offer of PowerPoint templates, just for Indezine readers, for a very limited time!
Subscribe to get lifetime access
SlideSource Library: Conversation with Bob Befus
Bob Befus is a serial entrepreneur who has focused on the presentation needs of medical and pharmaceutical organizations for most of his career. In 1996, Bob developed an interactive digital display software that enabled presenters to organize thousands of data slides and be able to locate and present them instantly during live Q&A. Since 1996, Bob has continued to develop and refine several presentation support technologies including SlideSource for SharePoint in 2010 and SlideSource.com in 2015. In this interview, Bob discusses the new features in SlideSource Library.
Read the conversation here
Quotes
Change Your Thoughts: by Dr. Marcia Reynolds

"For years, "Change your thoughts, you change your behavior" was the mantra for life improvement. Through experience and science, we have since learned that affirmations rarely change behavior when emotions have taken the wheel. When your buttons get pushed into anger and your mind floods with fear, telling yourself to be calm or courageous won't stand up to the voices in your head telling you to defend or shut up."
iSpring Suite 9.7: The Indezine Review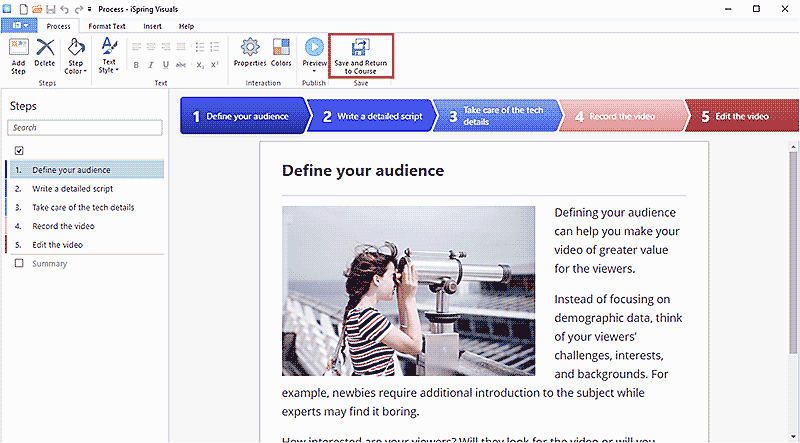 We last reviewed iSpring Suite 8 in 2016, and it's been a while since then. During this time, the folks at iSpring have added a multitude of features to their flagship program, and it seems like a good time to review the new iSpring Suite 9.7. At this point, it is important to understand that iSpring Suite 9.7 is an environment suited to create courses for eLearning. Most features are geared towards this objective. Yet, many users also take benefit of the amazing iSpring Content Library for their regular PowerPoint presentations. You'll learn more about these options later in this review.
Read the review here
Indezine PowerPoint Templates
Medicine and Medical PowerPoint Templates
Legal and Law PowerPoint Templates
FreePPT PowerPoint Templates
Christian PowerPoint Templates
End Note
© Indezine. Please do not reply to this message.



View this mailer issue as a web page

.
Join this list
Received this email from a friend? If you would like to receive your own copy, join our mailing list. Go here.
Previous issues
Do you want to read older issues of this newsletter? Go here.
Privacy Policy
We never share your info with anyone. Read our Privacy Policy.
Mail Provider
This mailing list is powered by Aweber.
Change Subscription
If for any reason, you no longer want to receive this newsletter with valuable tips, resources, and information about PowerPoint and presenting stuff, you can unsubscribe by clicking the link at the end of this email. No hard feelings!