April 28, 2020
PowerPoint and Presenting News
PowerPoint Designer in PowerPoint 365 for Windows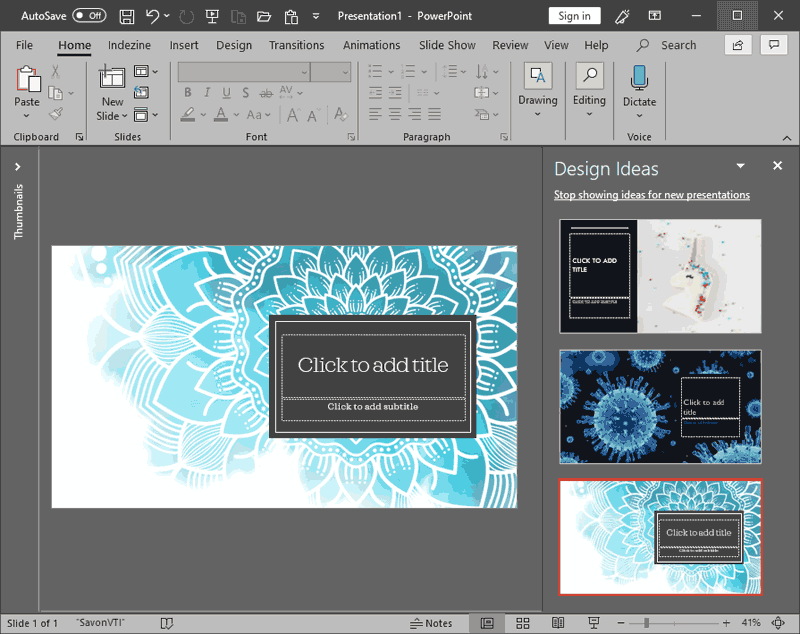 PowerPoint design is a field of design that's different than the design of brochures, web sites, and even Word documents. It affords opportunities that these other media do not, and it also does not provide some options you may be used to, especially if you are a print designer. So, what if PowerPoint itself showcased these presentations-specific design opportunities or design possibilities for you? You could then choose to apply a possibility with one click, or ignore—it's your decision. Wouldn't that be awesome? PowerPoint Designer is exactly this option.
Learn how you can use PowerPoint Designer in PowerPoint 365 for Windows
Night Sky Starlit Backgrounds
The ZIP file that you will download contains five Night Sky Starlit Backgrounds in three resolutions: Full Size: 4000x2250 pixels (16:9), Widescreen Size: 1365x768 pixels (16:9), and Standard Size: 1024x768 (4:3). Also included are five PowerPoint Presentations with Night Sky Starlit Backgrounds, set to work with the Morph transition. Yes, these background designs can also animate between slides using PowerPoint's Morph transition.
Go ahead and get this product! You'll see the price on the order page
Presentation Management 14: Making Presentations Intelligent
At first, presentation management might seem like taking PowerPoint and other files and putting them on a cloud with a few frills. But there's another aspect of presentations that comes alive once they are managed in a cloud environment where they can be tracked. Presentations throw off data. Every word and pixel is data. Every time a slide gets used, the data can tell us who used it, and where and how it was used. The data can tie sales presentations, for instance, to deals closed, which means the data could show which slides helped sell the most. All of that data can be captured and analyzed in ways that help make every presentation better.
Read more with AlexAnndra Ontra and James Ontra.
Show Websites in PowerPoint
There are tools available to show websites on PowerPoint slides. You can use that to draw a web browser object on your slide, and then specify the URL to show in there. When you run your slideshow, you will see that website on a given slide. Every time the slide is shown, the website output is rebuilding and displayed again on your television screen or other display. This technique does have a few caveats because of the web-browser technology. So, is there a better way? Yes indeed, and we call this the DataPoint way.
Read this post by Kurt Dupont
Presentation Summit 2020: Conversation with Rick Altman
Rick Altman has been hired by hundreds of companies, listened to by tens of thousands of professionals, and read by millions of people, all of whom seek better results with their presentation content and delivery. He covers the whole of the industry, from message crafting, through presentation design, slide creation, software technique, and delivery. He is the host of the Presentation Summit, now in its 18th season as the most prominent learning event for the presentation community. In this conversation, Rick talks about the Presentation Summit, being held virtually this year from August 10 to 13, 2020.
Read the conversation here
Presentation Ideas Europe Online Conference 2020: Conversation with Kurt Dupont
Kurt Dupont is a solution provider who would go out of his way just to ensure he brings out the best when it comes to issues that has to deal with data-driven presentations, data visualization, and digital signage software. He started by working at airports worldwide to set up airport databases and flight information screens. This evolved to become the basis for PresentationPoint. In this conversation, Kurt talks about the Presentation Ideas Europe online conference.
Read the conversation here
PowerPoint Add-in: Pixabay Images
We are exploring an add-in from the Microsoft Office Add-ins Store called Pixabay Images. Yes, this add-in lets you insert images from Pixabay into your PowerPoint slides and Word documents too. We already have a review of Pixabay elsewhere on this site, so we will go ahead and focus only on the add-in for this post.
Read more about the Pixabay Images add-in
The Art of Online Communication in Business
Covid-19 means that many of us are having to change the way we work and move our meetings, coaching, mentoring, training, or presenting to an online setting. I am one such person and have learned some valuable lessons as I have conducted meetings and coaching online. In this offering, I will share things I have learned to help you engage your online audience and make your communications effective and full of impact.
Read this post by Simon Day of Toastmasters
PowerPoint Templates from Indezine
PowerPoint Templates from MedicinePPT
PowerPoint Templates from LegalPPT
PowerPoint Templates from FreePPTTemplates
PowerPoint Templates from ChristianPPT
End Note
© Indezine. Please do not reply to this message.
Join this list
Received this email from a friend? If you would like to receive your own copy, join our mailing list. Go here.
Previous issues
Do you want to read older issues of this newsletter? Go here.
Privacy Policy
We never share your info with anyone. Read our Privacy Policy.
Mail Provider
This mailing list is powered by Aweber.
Change Subscription
If for any reason, you no longer want to receive this newsletter with valuable tips, resources, and information about PowerPoint and presenting stuff, you can unsubscribe by clicking the link at the end of this email. No hard feelings!