PowerPoint and Presenting News
Corporate Branding and PowerPoint: Conversation with Frederik Dessau


Frederik Dessau is a senior consultant at SkabelonDesign, a world leading agency within brand management and productivity in Microsoft Office. Frederik has been working professionally with PowerPoint (from template, to content) since 2005, implementing not only brands, but also sales processes and project management excellence. Frederik came to SkabelonDesign with a broad background from traditional communication, ad and design agencies. Today he is a leading resource in terms of corporate efficiency within Microsoft Office with a special force (and love) within the domains of PowerPoint. In this conversation, Frederik talks about corporate branding, in relation to PowerPoint.

Read the conversation here.


PowerPoint Concept Slides: Organic Shapes with Brush Edges


Have you tried to draw a line or a circle with just holding a pencil or marker in your hand? You'll end up with a shape that may fail you in a geometry test but it still looks human, personal, and different, just like these organic shapes.



You get 8 shape types plus lines as part of this Organic Shapes collection. Each of these 8 shape types have 10 variants. So you end up with 80 hand-drawn shape options! Again each of these 80 shapes have 12 brush stroke styles! Plus you get the lines and arrows in 12 brush stroke styles too. Combine all variations to end up with more than 3000 possibilities.




These shapes will help break the monotony of text heavy slides, and assist you in explaining difficult concepts better to your audiences. Using these organic shapes also convinces your audiences that you care enough about them to make the slides look appealing and comprehensible. What's more, these shapes are also so much fun to use!

Download these Organic Shapes for just $99.


Clichés: Light Bulb Pictures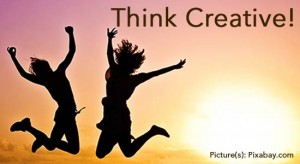 If someone wants a visual to express a bright idea, chances are they will use a picture of a light bulb! And probably there are thousands of people who decide to use that picture of a light bulb for the same reason – and that's made it a visual cliché! Can you imagine that a search for the term "bright idea" on Google Images got us almost nothing but light bulbs? OK – now one has to wonder — does a bright idea concept even visualize as something other than a light bulb? On the other hand, does a light bulb represent anything other than a bright idea?

Explore alternatives for visual clichés pertaining to the light bulb.


Learn PowerPoint
Slide Dimensions in PowerPoint – Size Differences


Have you ever wanted to use PowerPoint as a graphic program to create posters, web-banner ads, YouTube cover art, etc.? You will then have run into some limitations, especially when you tried to export a PowerPoint slide to a picture with exact size dimensions. In this tutorial, we will explore how a small improvement that Microsoft added in PowerPoint 2013 and newer versions is providing significant returns.


Learn PowerPoint 2016 for Windows
Corrections and Color Options for Picture Backgrounds


Although it's not too common to have bright and vivid picture backgrounds for your slides, it is not unheard of. You will often see slides that are saturated with bright, sparkling colors that make anything placed on the slide almost impossible to stand apart. So, do you really want your slide background "to not be in the background?" If not, then the techniques explained on this page will help.


Learn PowerPoint Online
Insert Pictures


It is true that both pictures and words are important, and they both play complementary roles. If you had to choose just one of them; then seeing is a much more important part of presenting. Presentations, by their very nature, are meant to be seen since they evoke actions such as project, display, or broadcast; and all of these actions represent visual media. Text and speaking are important too, but you can be more effectively heard and remembered if your content includes both text and pictures.


---
Insert Online Pictures


Are you looking for copyright-free pictures that you can use in presentations you create in PowerPoint Online, the browser-based version of PowerPoint? You can use the Online Pictures option. This feature is very helpful, because you get access to a large amount of visual content, some of which also include Creative Commons pictures. And all this happens within PowerPoint Online, within your web browser.


---
Change Picture


Imagine you inserted a picture in PowerPoint Online, and then applied various picture editing options to enhance its appearance. For example, you may have added Picture Styles. Probably, you then added both Fade and Zoom animations, synced them to happen together, and also timed the animations to occur at a particular speed. You may find yourself often doing these same tasks: adding all sorts of picture edits and animating them.