PowerPoint and Presenting News
Hypersay: Conversation with Paul Balogh, Cristian Dinu, and Brian Daly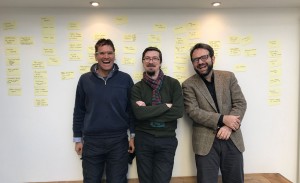 CEO Paul Balogh and CTO Cristian Dinu have known each other and worked together for over 15 years. They are both born and raised in Romania. Brian Daly is Commercial Director and joined in October 2016. He is American and an ex-investment banker. In this conversation, the three of them talk about Hypersay, a product that improves PowerPoint by making it a conversation.

Read the conversation here.

Jigsaw Shapes for PowerPoint Presentations


Here are a bunch of jigsaw slides that you can use to create your own jigsaw puzzles quickly within your own slides! This entire kit contains 5 different styles of jigsaw pieces: typical jigsaws, arrows, hearts, ovals, and rounded squares.




Each jigsaw shape is available in three counts: small, medium, and large. These shapes can be used in any PowerPoint version that is released till date. We made these available in two slide sizes for both standard (4:3) and widescreen (16:9) resolutions. Detailed instructions on how to use these shapes can be found within the download you buy.

Download and use jigsaw shapes in your slides now for just $9.99.
Wow3D: Conversation with Guillaume Otrage


An established media exec and serial entrepreneur, Guillaume Otrage has brought a number of 3D graphic technologies to market, that are now standard 3d visualization and interactive communication in numerous Fortune 500 companies including Sony, Electronic Arts, and P&G. Through his career, Guillaume built major partnerships with top brands in 3D visualization, such as Nvidia, HP, and Barco. After being VP of Global Sales for one of the brands at Dassault Systemes (the developer of leading CAD software such as Solidworks and CATIA) Guillaume co-founded with Krzysztof Kobus Wow3D to bring the 3D "Wow" of Pixar to PowerPoint. In this conversation, Guillaume talks about Wow3D.

Read the conversation here.
Gear Graphics for PowerPoint - Series 2 of 5


After the success of our Animated Gears, the first series, we are happy to bring you a new set of animated Gears. We call this one Animated Gears Again! Like the earlier series, these come in both animated and non-animated versions. The time-consuming process of using Gears and animating them in PowerPoint is now made easy again.

Download and use these gears in your slides.

Learn PowerPoint 2016 for Windows
File Types That Can be Opened


Programs such as PowerPoint are a very significant part of our workflows not just because of their vast abilities but also because they can understand content from so many file formats. These include file types that PowerPoint can save and open. We already explored file types that PowerPoint 2016 can save to, but when you go and look at the file types that PowerPoint 2016 can open, you'll find that the list of file types is not exactly the same. There are several omissions and additions compared to that list.


---
File Menu and Backstage View


If you explore how people use PowerPoint, you will discover that people are successful finding options that are intuitive and easy-to-discover. They fail when options are hidden in drop-down menus or dialog boxes. Fortunately, Backstage view is from the former category of options. Let us explore existing features within Backstage view. You access Backstage view from the File tab. The File tab is placed at the left extreme of the Ribbon.


---
Adding Animation


PowerPoint allows you to animate any slide object that can be selected on your slide. Such objects include pictures, shapes, text, bulleted lists, SmartArt graphics, charts, etc. You can tweak the way objects on your slides appear, move, and disappear by adding animation.


Learn PowerPoint 2016 for Mac
Rulers


When working with multiple slide objects, you should have a visual cue about where you are placing slide objects. You can get exact coordinates of your slide objects using the positioning options in PowerPoint, but most of the time, you just need an approximate idea of where your objects are placed, and this can be easily obtained by using the Rulers option available in PowerPoint. Turning on this option shows you the rulers in PowerPoint. These rulers are located on the top and left parts of the active slide.