Eid-ul-Fitr
Date Created: September 10th 2009
Last Updated: September 10th 2009
Eid-ul-Fitr (or Id-ul-Fitr), often abbreviated to Eid (Id) is an Islamic (Muslim) festival. Eid marks the end of Ramadan (Ramzan), the Islamic holy month of fasting. Typically, Muslims wake up early in the morning and have a small breakfast that includes the date fruit, before attending a special Eid prayer called Salah that is performed in congregation at mosques. Everyone puts on new clothes, and communal prayers are held in the early morning, followed by feasting, and visiting relatives and friends.
You can learn more about Eid-ul-Fitr on Wikipedia.
See a visual presentation (scroll down this page) and download a free PowerPoint presentation on Eid-ul-Fitr...
---
Free Eid-ul-Fitr PowerPoint Templates
---
Premium Ramadan PowerPoint Templates from Ppted.com
---
More Stuff
Search Eid-ul-Fitr on BigStockPhoto.com...
Free Eid-ul-Fitr Scrapbook Embellishments
Free Eid-ul-Fitr SnagIt Stamps
---
Eid-ul-Fitr on Flickr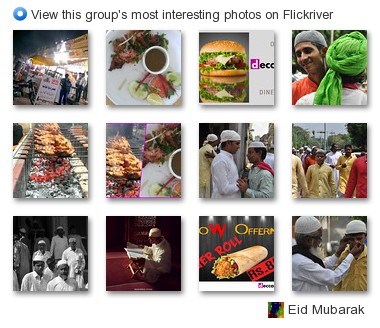 ---
Eid-ul-Fitr PowerPoint Presentation

Click above to view on SlideShare

Click above to view on Slideboom
---